"Kinship is one of the most important organizing components of society... This social institution ties individuals and groups together and establishes a relationship among them."
from thoughtco.com
It's important to know you are not alone.
We started Kinship Group meetings with the key goal to create shared experiences that foster peer support and build community. Participants are invited to share a meal, discuss current topics about raising children, and to build comradery amongst families that have found themselves raising an infant, toddler, or school-age family member. At these meetings, people are welcome to sit and listen, share stories, ask questions, all in a confidential setting.
The meetings are led by our Director of Family Support, Bobbie London. Bobbie is a Licensed Marriage and Family Therapist (LMFT) that skillfully hosts these sessions to satisfy the growing needs of our families.
If you have or have had a child who has participated in a Stars program, you are eligible to join us. Currently we have participants from all over the South Shore — Cohasset, Hingham, Weymouth, Quincy, and Randolph among them.
Potluck meals are provided by participants and staff. Childcare is also provided during these meetings.
All of our programs have a designated Family Support Clinician assigned to support the enrolled children and families. These well-trained staff members work to provide resources and referral services, parent/guardian support, behavioral consultations and ensure continuity of care between, school, home, and health provider. Frequently our Family Support Clinicians provide information to families for wrap-around services and referrals to a variety of resources that towns or state agencies may offer. Our Clinicians are skilled at supporting the social and emotional well-being needs of the families and children that we enroll.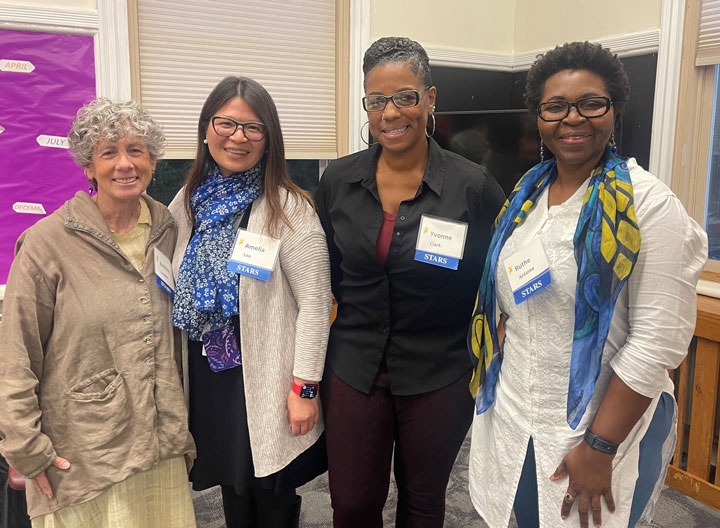 Support Clinicians

Bobbie London, M Ed, LMFT,
Director of Family Support Clinicians
Yvonne Clarke Andrews, MFT
Amelia Lau, MFT
Ruthe Antoine, MSW, SSSW
Family Child Care

Groups meet monthly, 6:00-8:00pm. Exact dates TBD

Program is open for Current or Alumni Stars families only

Attendance is FREE, but you must register in advance.